A Buyer's Road Map
Your home should fit the way you live, with spaces and features that appeal to you. There is no such thing as a perfect home, so be realistic with your expectations.
Save yourself hours of shopping by making a list ahead of time. Zero in on the features you must have or would like to have.
Remember, location is crucial. Even a picture perfect dream home can be a mistake if it's in an undesirable location, and a poor location home can be a particularly bad choice if you anticipate moving within a few years.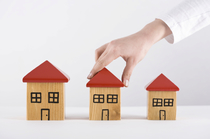 List Your Priorities - What Should You Consider?
Neighborhood
Location
Size (number of bedrooms/bathrooms, size of kitchen)
Price
Age
Condition
Floor plan/style
Garage
Type of home (condo, cluster home)
Amenities (patio, deck, pool, etc)
Lot
Schools
Places of worship
Commute to job
Public transportation
Access to expressway, shopping, parks & recreation

Financing
Financing can be the bumpiest part of your journey. Choosing a lender involves more than determining which one offers the best rate, but one who also understands the complex guideline changes currently affecting the mortgage industry.
There can be obstacles and detours along this part of the trip, even with the most knowledgeable of loan officers.
To learn more about the types of loans, elements of a loan, and questions to ask lenders, click here.